Gini Vivante a Luxurious Residential Township in Pune
Living in residential township projects is the upcoming trend in the real estate sector. A residential township is a city within a city; the idea here is to make everything you need daily available within the project premises. Have you also been looking for a residential township in Pune to make your abode? Your search ends here, then. Gini Vivante is an upcoming luxurious residential township in Pune located in Kiwale, Pune, that offers you your dream home and is loaded with best-in-class amenities for a comfortable living.
But why you should invest in Gini Vivante? Let us explore.
Gini Vivante a Luxurious Residential Township in Punente – USPs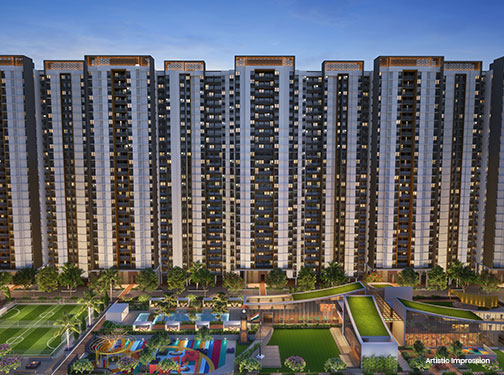 The Project Overview
Gini Vivante is a huge and magnificent residential township in Pune spread across 17+ acres of land. The project boasts of 7+ acres of open area with over 100+ lifestyle amenities to enjoy. The projects offer homes in 2, 2.5, and 3 BHK configurations. Gini Vivante floor plan has 3BHK homes in an attractive size. The homes are a fusion of modern and contemporary styles with aesthetically designed interiors. 500+ customers have already joined the Gini Vivante family.
Amenities
It is the array of amenities that the project offers which make it very desirable. Broadly, the facilities have been divided across 5 segments: the Colosseum, the Pavillion, The Sanctuary, the Plazza, and the Highstreet.
At the 'Colosseum', the residents may enjoy a host of activities across outdoor sports, including a swimming pool, gymnasium,rock-climbing wall, football court, etc. The unique amenities include a temple, a dedicated area for festival celebrations, an outdoor cinema, a buffet area, etc. There is a Club at Gini Vivante that hosts several indoor games, a beauty parlour, a spa, a cafeteria, a library, guest suites, a private theatre, etc. There is a business centre where you can hold meetings.
The 'Pavillion' area has a skating rink, Badminton and Lawn Tennis courts, Beach Volleyball, and a cricket ground. There is a camping zone and a bonfire pit, too. The 'Sanctuary' is all about nature. There is a forest trail, an acupressure track, a fragrance park, a musical garden, and a butterfly garden. Enjoy long walks and soak in the greens. The 'Plazza' brings to you vegetable and fruit shops for your everyday requirement. The area also has an herbal garden, an EV charging Zone, and a cycle station. Then there's 'Highstreet', your shopping destination.
Gini Vivante is a mini-city, a self-sufficient community. This residential township in Pune is where you don't need to venture out for anything you want daily.
Location
Kiwale is an upcoming locality in North-West Pune. Charming and serene, the area is a dream locality for those looking yearning for a peaceful and quiet life away from the maddening city noise. No traffic jams, no honking on the road, and proximity to major employment hubs make it a very alluring residential destination.
Kiwale lies very close to Hinjewadi, a prominent IT Park in Pune. For those working here, projects like Gini Vivante it is a boon. Negligible travel time to work makes it easier to have a better work-life balance.
The availability of good public transport in the area makes travelling across the city very convenient.
Excellent Connectivity
The connectivity of a location with other parts of the city is a critical factor affecting home-buying decisions. No matter how big or small your home is, connectivity is crucial to comfortable living.
One of India's best expressways, the Mumbai-Pune Expressway, runs very close to Kiwale, making Mumbai to Pune travel very convenient.
The Pune International Airport also lies just 30 km away from Kiwale, making air travel more convenient. The upcoming metro route, Hinjewadi-Shivaji Nagar Metro Line, will further improve Kiwale's connectivity. You would quickly reach some prominent Pune neighbourhoods. Also, there is a proposed Ring road to pass through Kiwale, which will align the locality with other parts of the city.
The connectivity of Kiwale with key employment hubs such as Hinjewadi IT Park and Talawade IT Park will attract many people working in those offices. So, people working in these areas will enjoy seamless commutes to offices and back.
Gini Construction has a legacy of 20+ years in real estate and has a presence in Pune, Mumbai, and Ahmedabad. They are known for good construction quality and timely delivery of projects. At Gini Constructions, we follow customer-centric policies and maintain transparency in communication at all levels. Real estate investment involves huge sums of money. Picking a project from a reputed developer will secure your money and your future. With Gini Constructions, your money is safe.
The homes at this luxurious residential township in Pune are quite affordable, making them an attractive investment option. If you have been looking for a 3 BHK spacious home in Pune, check out Gini Vivante.